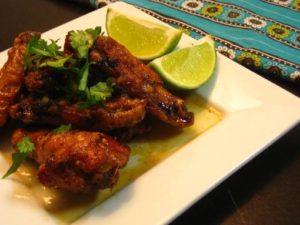 I just love spicy.
Fry 4 lbs. chicken wings until crispy. OR if you prefer baked CRISPY wings, try boiling them for 20 minutes. Dry them on paper towels and place on a rack over cookie sheets. Chill in refrigerator for 1 hour. Bake at 425 degrees for 20 minutes, turn over and bake 20 more minutes. Keep batches of fried wings hot in a warm oven while cooking.
CHILI-LIME SAUCE
Blend 1 stick butter, softened
1 1/2 Tbsp. Thai Red Curry Paste
1/4 cup honey
1/4 cup soy sauce
1 tsp. cracked pepper
Fresh limes
Toss hot wings in sauce. Squeeze with fresh lime juice and serve!