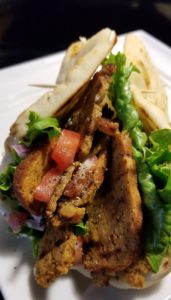 Vegan Gyro
INGREDIENTS
Pita
or Naan
Tzatziki sauce (optional)
Garnish options: lemon or lime wedge, sliced onion, sliced tomato, shredded lettuce
For the seitan
1 1/4 cups vital wheat gluten
4 TBS nutritional yeast
1/4 onion – minced
1 clove garlic – minced
1 tsp salt
1 tsp onion powder
1 tsp garlic powder
1 tsp dry basil
1 tsp dry oregano
1 tsp black pepper
2 DROPS  liquid smoke (optional)
1 TBS tahini
1 Tbs soy sauce
2 TBS ketchup
3/4 cup water (or more if necessary)
DIRECTIONS
for the seitan
Heat the oven to 350 degrees.
In a food processor, I pulsed the onion, garlic, tahini
, ketchup, nutritional yeast flakes, liquid smoke, water & dry spices together but you could do this in a large bowl.
Or – mix all the wet ingredients (onion, garlic, liquid smoke, water, ketchup, tahini) in one bowl & the dry (wheat gluten, nutritional yeast, onion powder, garlic powder, salt, basil, oregano & pepper) in another & combine them.  It comes together fast & looks like raw hamburger – if hamburger was doughy.
for the gyro
When you are ready to make the sandwich, slice off some seitan & fry it up until warmed through.
Grab your wrapping device (Pita
or Naan
) – and layer the things on it you choose – like garlic paste
, seitan, onion, lettuce, tomato & tzatziki
.  Squeeze a lemon!   Then get your grub on – all vegan-style & stuff!