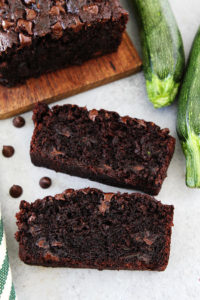 This Chocolate Zucchini Bread is guaranteed to be your new favorite zucchini recipe. You will be begging your neighbors for more zucchini so you can make multiple loaves of this bread. It is crazy good! You can thank me later!
prep time: 15 MINUTES
cook time: 50 MINUTES
total time: 1 HOUR 5 MINUTES
INGREDIENTS:
1 cup all-purpose flour
1/2 cup Dutch process cocoa
1 teaspoon baking soda
1/2 teaspoon sea salt
2 large eggs, at room temperature
1/4 cup unsalted butter, melted and slightly cooled
1/4 cup canola, vegetable oil, or melted coconut oil
3/4 cup packed light brown sugar
1 teaspoon pure vanilla extract
1 1/2 cups packed shredded zucchini
1 cup semisweet chocolate chips, divided
DIRECTIONS:
Preheat your oven to 350°F. Grease a 9-by-5-inch loaf pan with nonstick cooking spray and set aside. In a medium bowl, whisk together the flour, cocoa powder, baking soda, and sea salt. Set aside. In a large bowl, add the eggs, melted butter, oil, vanilla extract, and brown sugar. Stir until smooth.
You might have a few small brown sugar clumps and that is fine. Stir the dry ingredients into the wet ingredients, don't overmix. Stir in the shredded zucchini until just combined. Stir in 3/4 cup of the chocolate chips. Pour batter into prepared pan. Sprinkle the remaining 1/4 cup of chocolate chips over the top of the bread. Bake for 50-60 minutes, or until a toothpick inserted into the center of the bread comes out mostly clean, you might have some melted chocolate chips on the toothpick and that is fine. You just don't want a lot of gooey batter.
Remove the pan from the oven and set on a wire cooling rack. Let the bread cool in the pan for 15 minutes. Run a knife around the edges of the bread and carefully remove from the pan. Let the bread cool on the wire cooling rack until slightly warm. Cut into slices and serve.
Note:  if you use coconut oil, make sure it is melted and slightly cooled. The bread will keep on the counter, wrapped in plastic wrap, for up to 4 days. This bread also freezes well. To freeze, cool the bread completely and wrap in plastic wrap and aluminum foil. Freeze for up to 1 month. Defrost before slicing.